Mobile Shredding Services
Mobile Shredding Services in Dallas and Fort Worth, TX
Mobile Document and Mobile Paper Shredding Services
Mobile document and mobile paper shredding services will ensure that your company's secure, confidential, and sensitive documents are safely and completely disposed of. At Secure On-Site Shredding, we'll work closely with you to identify your document destruction and mobile shredding needs. We have customizable and flexible mobile shredding services to meet all needs and budgets. We show up on schedule with our mobile shredding vehicle, remove all documents and papers from your shred bins, and securely dispose of them onsite in our vehicle. A team member can witness all mobile document shredding services for quality assurance standards. Call us today to schedule a consultation for our mobile shredding services in Dallas or Fort Worth, TX.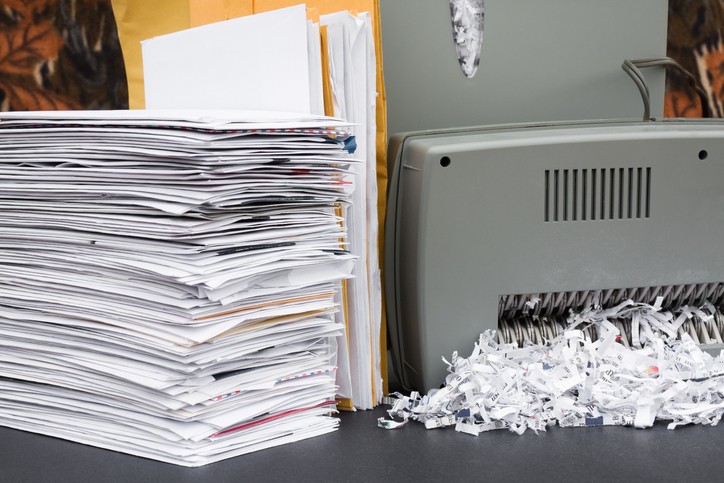 What Are Mobile Document Shredding Services?
A mobile document shredding service is a secure, reliable method of destruction for confidential, sensitive, and private documents. Our team also offers hard drive destruction, file cleanout, purge services, and more. Rather than bringing your documents or other items to our Richardson drop-off site, you will collect them in secure collection containers. You can then schedule recurring or on-demand mobile shredding services. We will send team members to you to collect the documents and other materials from your containers, where they will be securely transferred to our truck in the parking lot. Our experienced team will securely dispose of the materials while you witness the process.
Benefits of Mobile Shredding Services
Hiring a company for secure, reliable mobile shredding services will ensure you remain in compliance with legal statutes and federal and state regulations. You will also avoid the severe consequences associated with a data breach or data theft. The benefits of scheduling recurring mobile document shredding services are:
Guaranteed data security and compliance.
Improved productivity and reduced downtime.
Increased convenience.
Eco-friendly and environmentally responsible.
Peace of mind.
Protection from malicious intent.
Compliance with federal and state laws and regulations.
Cost-efficient.
Reduced liability.
Convenient and low-maintenance.
Flexible and customizable options.
Chain of custody records.
Why a Reliable Document Shredding Service Is So Important?
According to federal or local laws or statutes, secure document destruction is legally required in some industries. Document destruction safely and securely removes confidential and sensitive data that could otherwise be vulnerable to data theft and breaches. Companies are required to securely destroy or shred any documents that contain personal or sensitive identifying information, such as:
Tax information.
Confidential employee or client information.
Income and expense records.
Diagnosis and treatment information.
Training information.
Sensitive company ideas.
Credit card numbers.
Names, social security numbers, dates of birth, and driver's license numbers.
Our goal is to meet our community's evolving and changing needs by offering robust, flexible onsite, off-site, and mobile shredding services. Our shredding services, document destruction, and data destruction services include:
Destruction of materials, including fabrics, metals, and paper.
Hard drive destruction services.
Product destruction.
Financial record shredding.
Medical record shredding.
Electronic recycling.
Data and document storage.
Document collection containers.
How Our Mobile Paper Shredding Services Work
We offer secure onsite shredding services in our mobile vehicles and convenient and accessible drop-off locations. We service a 100-mile radius from the Richardson, TX area, including Dallas and Fort Worth. We are available for routine, one-time, and recurring commercial and residential shredding services, as well as for fundraising and community events. We offer secure document collection containers, which can be emptied through our onsite or mobile shredding services or dropped off at our Richardson drop-off location. You can witness the shredding process for mobile, onsite, and drop-off locations for your personal or company quality assurance controls. Call us today to schedule:
Recurring shredding or destruction services.
Onsite or Mobile shredding services.
Why Choose Secure On-Site Shredding
At Secure On-Site Shredding, each team member is highly trained and skilled in handling confidential, sensitive, and secure documents. Our mission is to provide secure and compliant information destruction services to ensure the proper destruction of our client's sensitive information. We are committed to providing document destruction and shredding services professionally, courteously, and efficiently. We maintain a strong focus on customer service, reliability, and trustworthiness. We are an AAA Certified member of the National Association of Information Destruction and a certified member of the Women Owned Business Council - Southwest. We are also HIPAA compliant and a member of the International Facility Managers Association.
Schedule
Paper Shredding and Mobile Services
Contact us today or contact us online to schedule a consultation or request an estimate for the cost of paper shredding and mobile services in Dallas or Fort Worth, TX. Our trucks shred onsite and offer mobile shredding services for residential and commercial customers. We also offer convenient drop-off locations.